Aluminum Tee Connectors, Pipe Run to Pipe Tap
Description:
Where circumstances require a pipe  connector of lightweight aluminum alloy, the Type APTP meets the most strenuous electrical and mechanical demands. Clamping hardware is high tensile aluminum. In order to facilitate single-wrench installation, all bolt heads are recessed.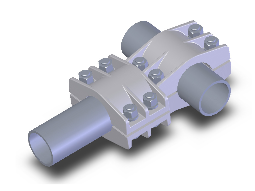 Features:
•    IPS Main size. 4-1/2 or IPS Tap size. 1-1/4.
Dimension:
A    12-3/4"
B    3-1/8"
C    4-3/4"
K    5/8 & 1/2"